Greenwood Believed He Would Do Pike Justice
By Captain Pyke | May 6, 2009 - 12:12 pm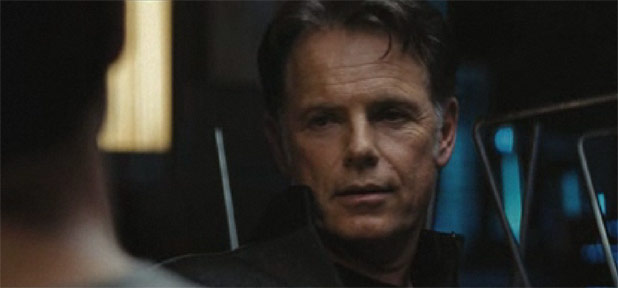 Bruce Greenwood has often played authority figures from The President in 'National Treasure 2' to President Kennedy in 'Thirteen Days'. In a recent article on Canada.com, Greenwood talks about being approached for the role of Captain Pike and his first reading of the script for 'Star Trek'.
...Ironically, Greenwood was working in Toronto when he got Abrams' call to fill the role of the authority figure. ``I don't know whether I am drawn to playing people with commanding authority, but if I am it's probably because I have so little of my own,'' said Greenwood on Tuesday before the worldwide opening of the new Star Trek on Friday.

What he does remember thinking at the time was that he couldn't wait to read the Trek screenplay. It turns out he had to.

There was no way Abrams, the cautious producer-director of the much anticipated reboot of the franchise, was going to send the precious script by over-night courier to Greenwood's Toronto hotel. Instead Greenwood, 52, got his hands on the Trek pages when he returned to L.A. weeks later.

He found himself locked in a room with a security official while reading it over, and returning the script when he left. Still, Greenwood saw enough to make him believe he could do Pike justice.

`I didn't watch the show that much as a kid so I did my homework,'' he said describing his preparation for the part. That meant viewing the complete Gene Roddenberry series starring William Shatner as Captain Kirk and Leonard Nimoy's logical Spock, which aired from 1966 to 1969.

As added incentive, he also studied the 1966 Star Trek pilot featuring Jeffrey Hunter as Captain Pike. But that was more for his edification than for shaping his performance.

`J.J. (Abrams) told us to use the original characters as a point of departure,'' noted Greenwood. ``I looked at what Jeffrey Hunter had done, but our characters have different dilemmas, so I referenced him without repeating the performance.'' (source Canada.com)
Read the full article here.