Data Feed: Upcoming Star Trek Conventions, Vancouver, Boston, Nashville, Plus Many More
By Crewman Becky | June 8, 2011 - 9:36 pm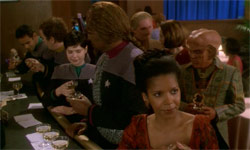 Creation Entertainment is putting on quite a few conventions this year to celebrate Star Trek's 45th anniversary, and we thought you'd like to know about the ones close to you. Here's a short list of upcoming shows you won't want to miss.
June 10-12, 2011 Vancouver Convention Be sure to see the now posted schedule of events for Vancouver.
June 24-26, 2011 Parsippany, NJ
July 15-17, 2011 Boston, MA
July 29-31, 2011 Nashville, TN
August 11-14, 2011 Vegas, NV
September 30-October 2, 2011 Chicago, IL
Save up your Latium for the experience of a lifetime and we'll see you at Vegas Khhaaan!