'Enterprise In Space' Announces Earth-Orbiter Project
By Crewman Becky | October 2, 2014 - 10:38 am
We've been watching the Enterprise In Space project from afar for a long time, and it's great to see it coming together. They have picked up quite a few notable endorsers along the way, including; Buzz Aldrin, Nichelle Nichols, Larry Nemecek, and Grace Lee Whitney.
Take a peek at what it's all about, below, and be sure to check out their website and see how you can participate!
Born of classic science fiction's inspiration to explore and learn, a grassroots project team of aerospace, IT and education veterans have announced the non-profit "Enterprise in Space" project—an orbital mission to launch, fly and retrieve global students' winning experiments in 2019 and test out new space technology advancements. This is an opportunity for people to come together to accomplish something historic, through their talents and interests in space, science, education, astronomy, cosmology, science fiction and space exploration.

What began as a dream by an Oregonian webmaster Shawn Case four years ago has now won the sponsorship of the esteemed National Space Society. Shawn Case has assembled a professional team in project management, aerospace and education, planned its funding, and prepared a well defined project to launch an orbiter dubbed "NSS Enterprise," with its artistic design to be conceived by a public competition. The spacecraft will re-enter from orbit for retrieval, tour along with the results of the student experiments, and ultimately be displayed in a major museum along with the names of all who helped fund it.

"Isn't it time a real Enterprise spacecraft flew in space?" asks Shawn Case, voicing one of the ideas that gave life to the mission. Shawn Case believes people themselves should take the lead and, he adds, each donor will get his or her name on a chip to be carried aloft as a virtual crewmember on this historic flight - and also viewable upon return as part of a display at a major museum. A three-minute video explains the entire idea at the Enterprise in Space website. (enterpriseinspace.org).

Famed Apollo 11 moonwalker and "Mars Return" backer Edwin "Buzz" Aldrin agrees. "This is an educational and inspirational tribute," Aldrin says. "My name has been to space and back—now it's your turn: rendezvous with me and support the Enterprise in Space project. Help make history all over again." Winning experiment proposals from students of all ages and nations, following an education outreach program and curricula headed by Lynne F. Zielinski, NSS Chair of Education and Outreach, will be heading up a team of Education Emissaries to develop new curricula and run multiple rounds of competition open to international teams from Kindergarten through post-graduate university students..

The project's appeal to those in space, science, and education goes hand-in-hand with its audience of science fiction fans, many of whom have a naturally optimistic view of the future and of humans living and working in space—the goals that the sponsoring National Space Society promoted to since its founding in 1974.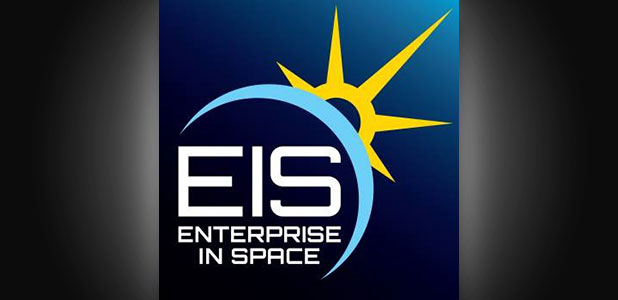 Read the Press Release below:
NON-PROFIT "ENTERPRISE IN SPACE" TEAM ANNOUNCES INSPIRED, GRASSROOTS EARTH-ORBITER PROJECT A PROJECT OF THE NATIONAL SPACE SOCIETY

Designing, Building, Launching, Orbiting, Re-Entering, Touring, and Displaying a science fiction inspired satellite, as a science education project for all ages and a tribute to the great visionaries of science and science fiction.

Portland, Oregon, September 17th - Born of classic science fiction's inspiration to explore and learn, a grassroots project team of aerospace, IT and education veterans have announced the non-profit "Enterprise in Space" project—an orbital mission to launch, fly and retrieve global students' winning experiments in 2019 and test out new space technology advancements. This is an opportunity for people to come together to accomplish something historic, through their talents and interests in space, science, education, astronomy, cosmology, science fiction and space exploration.

What began as a dream by an Oregonian webmaster Shawn Case four years ago has now won the sponsorship of the esteemed National Space Society. Shawn Case has assembled a professional team in project management, aerospace and education, planned its funding, and prepared a well defined project to launch an orbiter dubbed "NSS Enterprise," with its artistic design to be conceived by a public competition. The spacecraft will re-enter from orbit for retrieval, tour along with the results of the student experiments, and ultimately be displayed in a major museum along with the names of all who helped fund it.

"Isn't it time a real Enterprise spacecraft flew in space?" asks Shawn Case, voicing one of the ideas that gave life to the mission. Shawn Case believes people themselves should take the lead and, he adds, each donor will get his or her name on a chip to be carried aloft as a virtual crewmember on this historic flight - and also viewable upon return as part of a display at a major museum. A three-minute video explains the entire idea at the Enterprise in Space website. (enterpriseinspace.org).

Famed Apollo 11 moonwalker and "Mars Return" backer Edwin "Buzz" Aldrin agrees. "This is an educational and inspirational tribute," Aldrin says. "My name has been to space and back—now it's your turn: rendezvous with me and support the Enterprise in Space project. Help make history all over again."

Winning experiment proposals from students of all ages and nations, following an education outreach program
and curricula headed by Lynne F. Zielinski, NSS Chair of Education and Outreach, will be heading up a team of Education Emissaries to develop new curricula and run multiple rounds of competition open to international teams from Kindergarten through post-graduate university students.

The project's appeal to those in space, science, and education goes hand-in-hand with its audience of science fiction fans, many of whom have a naturally optimistic view of the future and of humans living and working in space—the goals that the sponsoring National Space Society promoted to since its founding in 1974.

Mission goals and emphasis:

1. Enterprise In Space is tribute to the many visionaries of both science and science fiction.

2. Enterprise In Space is a tribute to all vessels in history named Enterprise.

3. Enterprise In Space places a major emphasis on science education from building the Enterprise orbiter at a highly-recognized aeronautics and aerospace institution to science and space education for students.

4. Enterprise In Space will put the orbiter into the Smithsonian Museum or other major museum, after the museum's approval process.

5. Enterprise In Space will fly on board: virtual crew members' names, 100+ student science experiments from a world-wide student competition, and a representation of each of the previous vessels named "Enterprise".

The EIS team would like to share this message: "Great visionary science fiction writers created hopes that people would be doing more in space by now. Let's help to turn science fiction into science reality, bridging the conceptual gap through education, imagination, and inspiration. Through real-world enterprise, the people of Earth will contribute to the vision of Enterprise In Space."

Facebook Page: Facebook.com/EnterpriseInSpace
Website: www.enterpriseinspace.org

For more information please visit www.enterpriseinspace.org or contact Shawn Case Founder of Enterprise In Space
971-338-0095 email: scase@enterpriseinspace.org
Tags: